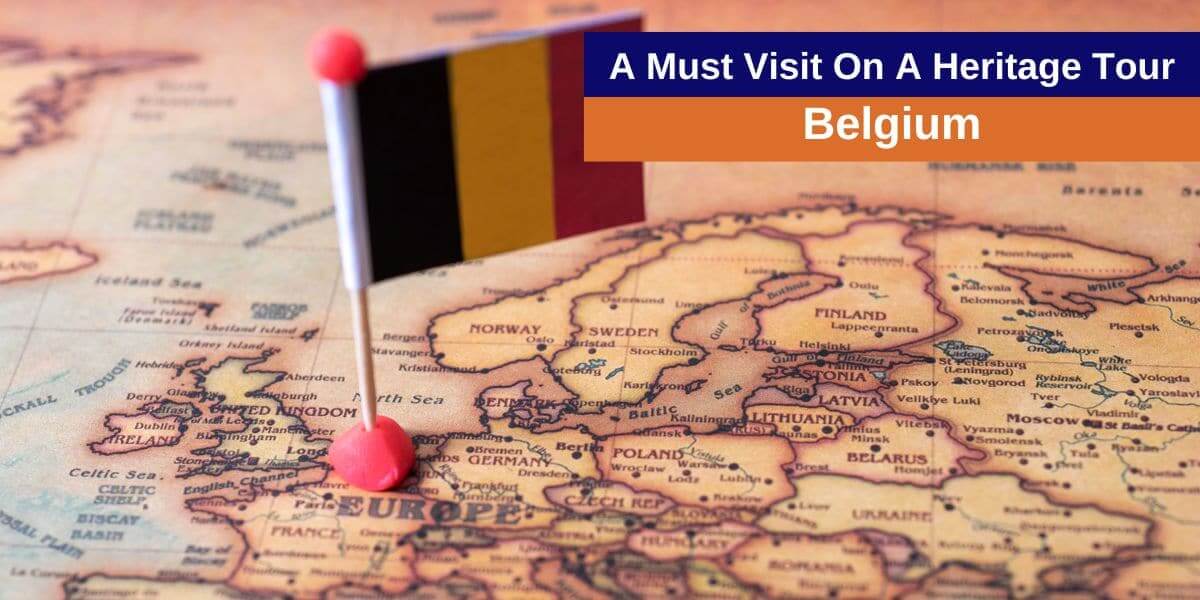 Many travellers don't know how exciting a Jewish heritage tour of Belgium is. It's a hidden gem of Europe, usually not on the top of people's travel list – but the matter of fact is, it should be.
The blend of this beautiful historic country, culture, and cuisine make it a unique location for a Jewish group tour.
Belgium is great for a Jewish tour. There's something exciting about taking the less traveled route, and while Belgium is a treasure mine of Jewish heritage, it's not often visited by the mainstream Jewish heritage tours, and has a lot to offer alongside these tours. If you love history, nature, great food, a relaxed environment, and lovely people, consider booking a tour to Belgium.
Continue reading to learn why Belgium must be on your travel list. Beautiful locations and great experiences will truly make your visit to Belgium feel like an exploration of a different planet.
Get a taste of Jewish history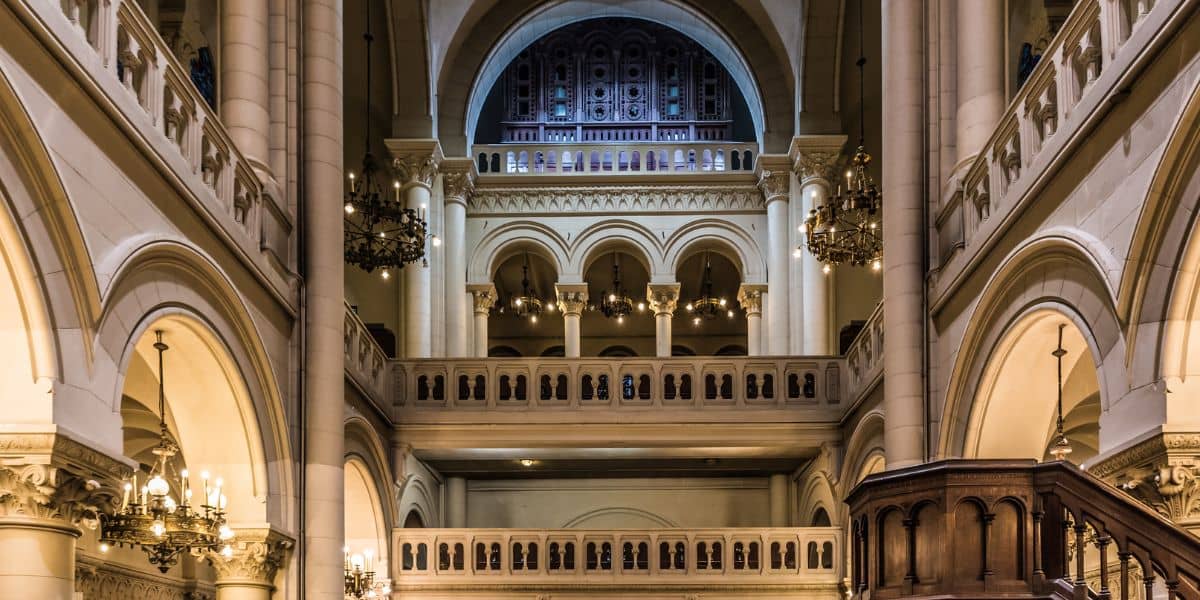 The Belgium Jewish community is around 30,000 people and is the fourth largest in Europe. About 20,000 live in Brussels and 15,000 in Antwerp, so either city is a good option for a walking tour.
Many Jews came to Belgium in the years 53-57 A.D, and in the 13th and 14th centuries after being expelled from England and France. Later, many came in the 15th century after they were expelled from Spain and Portugal. They are famous for their involvement in the diamond industry. Jewish heritage in Belgium is hundreds of years old and fascinating to explore.
45% of the Belgium Jewish community was deported to concentration camps during the Holocaust and only 1,200 of the deportees survived the war.
Jewish Walking Tour of Belgium
If you decide to go on a Jewish walking tour, you'll get to walk in the footsteps of Belgium's Jews, from synagogues to schools to monuments. You'll visit the old Jewish quarter of Marolles and the area of the Great Synagogue, and likely end with a kosher meal of a pita or bagel nearby.
While in Brussels You can visit these Jewish heritage sites in the city – the Jewish Museum of Belgium, the Great Synagogue of Brussels, and the old Jewish quarter of Marolles.
Jewish Quarter of Marolles
Today, Marolles is a mix of Spanish, Dutch, French, and Arab-speaking residents. It used to be the Jewish Quarter and is now home to the Jewish Museum of Belgium.
Marolles was home to many Jews who'd fled persecution from other countries in Europe. At Marolles during the war on 3 September 1942, 718 Jews were rounded up by the German police. Today, walking around, you'll find many paving stones with the names of the victims.
Great Synagogue in Brussels
The Great Synagogue of Europe in Brussels was built in 1875 in a Romanesque-Byzantine style. It was part of a larger movement in Europe in the 19th century to show Jews were free citizens of the countries they lived in. It was dedicated as the "Great Synagogue of Europe" in 2008, with the aim of being a center of Jewish life in Europe.
The Kazerne Dossin Museum
This museum, a "memorial, museum and research center on Holocaust and Human rights", in Mechelen is a former army barracks were thousands of Jewish people and Romani people were detained before they were sent to Auschwitz and other camps. The museum has personal Holocaust testimonies and also speaks about issues of human rights and mass violence.
Try All The Foods Belgium Has To Offer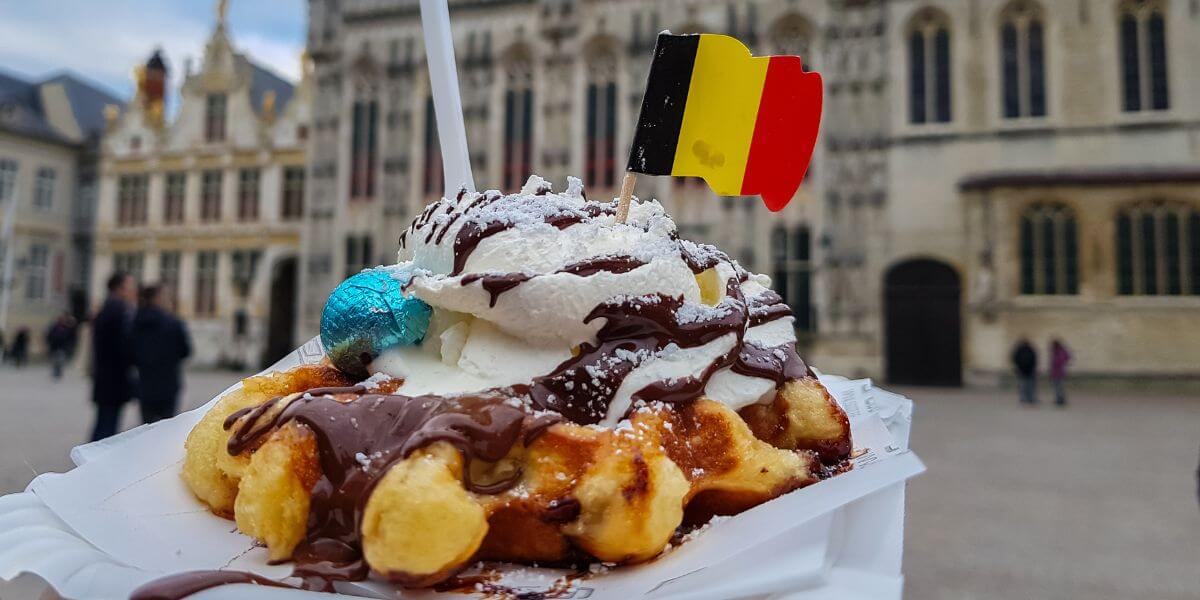 Belgium Chocolate-Making Class
Belgium is famous for its chocolate and for a very good reason, take a break from your heritage tour with a chocolate-making class. Enjoy amazing chocolate culture, teast, and learn the secrets of what makes Belgian chocolate so good!
Chocolate made by you is one of the best souvenirs you can bring home after your trip, whether you decide to share it or keep it all for yourself.
If you're on a private tour of Belgium, book a private chocolate-making workshop and really get to know the chocolate makers and their process. Learn how to make the famous Belgium Praline or just spend the class snacking.
Belgium's Beer Festivals
Belgium people love their beer and are one of the highest beer-drinking countries in the world, so if you love hops and IPAs, you can plan your Belgium trip around one of their many amazing beer festivals.
Belgian Beer Weekend in Brussels takes place September 2-4, and it's the biggest one. Over 70 breweries are featured and there's even a parade of historic beer carts. The Poperinge Beer Festival October 29-30 is a tent village with beer tastings, a Hop pageant, and live music.
Stop your walking tour for a taste of amazing Belgium street food 
Buy fries in Belgium from a shack called a frituur. The shacks normally have meat croquettes, burgers, chicken fingers, and cheese croquettes, but the fries are what you need to focus on. Gorge on the dipping sauces or go classic with mayonnaise. This is a classic Belgium experience and worth the grease.
Another great Belgium street food is the smoutebollen, dought golden fritters made of flour, eggs, yeast, sugar, and milk and deep fried and covered with icing sugar to perfection.
Waffles are another Belgium classic. Go classic and have them plain, or top them with every topping imaginable, from whipped cream to chocolate sauce to crushed Oreos to fruits. Go a few times and try different permutations–you'll never regret a trip to the waffle shop.
Learn About Contemporary Europe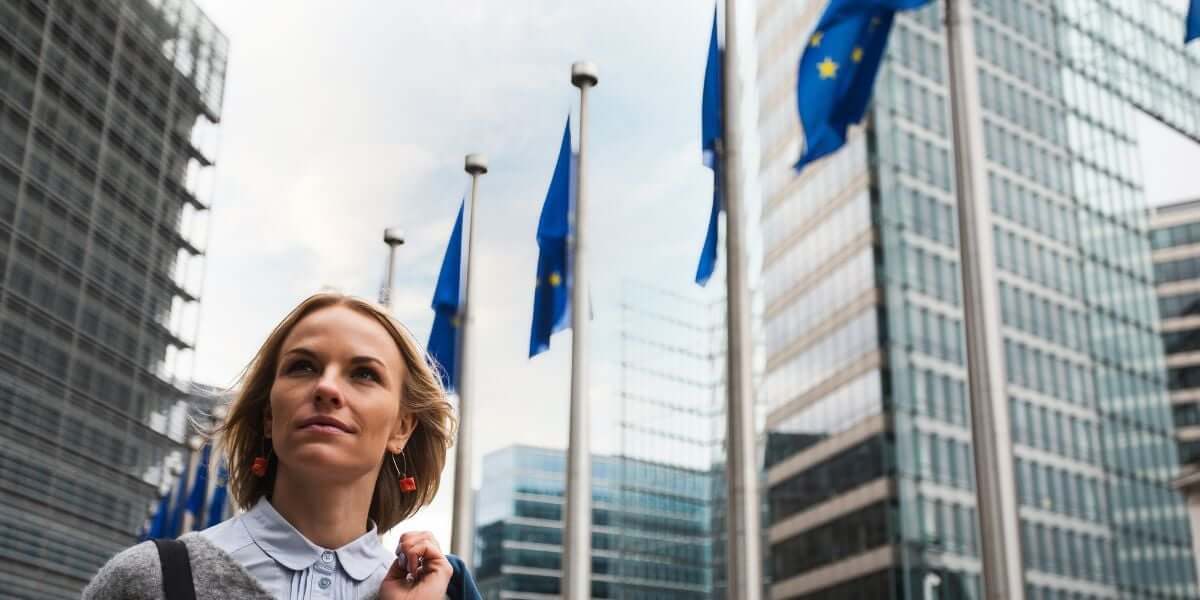 Visit Brussels on a walking tour
Brussels is the political and economic hub of Belgium and the capital of the European Union. Go on a walking tour as part of the Jewish heritage trip in this amazing place, and explore modern and old architecture, delicious restaurants and cafes around the city.
Brussels is an extremely walkable city, and there's no better way to get to know it intimately than on a Brussels walking tour. You'd likely visit the Grand Market, the Royal Galleries of Saint Hubert, the famous Manneken Pis, and St. Michael and St. Gudula cathedral. The Belgian royal family is in Belgium and you can visit their Royal Palace, as well as the Coudenberg Palace Archaeological Site to see the original palace foundations and ancient streets now visible to the public.
The most famous landmark in Brussels is the Manneken Pis, a small statue of a boy peeing into a fountain. The statue was made in the early 17th century and has had a tumultuous history since. It's been stolen and damaged, but it remains the best-known symbol of Brussels and Belgium.
It's worth going to see if you can catch it when someone dresses it up. It has over a thousand different costumes, including one of Dracula and another of a saxophone player, and is dressed up several times each week, according to a published schedule.
If you're interested in seeing some of its costumes, you can visit the Garderobe Manneken Pis museum, where many are on display.
Check out the Atomium
The Atonium is one of the most unusual buildings in the world. It's a collection of stainless steel spheres all connected by a tube. The best part is you can explore it–within the structure there are stairs, escalators, and elevators. The spheres have different attractions, including a restaurant at the top.
At the bottom of the Atomium is the Mini-Europe park. More than 80 European cities are displayed in miniature there, including an erupting Mount Vesuvius.
Go shopping in Antwerp
Antwerp is one of the fashion capitals of Europe. Check out the Meir, Antwerp's shopping street, for well-known brands, and the Fashion District for luxury brands.
There are also unique finds and brands in all corners of this stylish city. Kammenstraat is full of small boutiques and the Kloosterstraat is the place to go for vintage, antiques, and brocante.
Head to museums in the cities
There are great museums in Brussels, including the Museum of Ancient Art, the Museum of Modern Art, and the BELvue Museum, which is all about the country's history.
Antwerp's Rubens Museum is from the artist Peter Paul Rubens and is located in his residence, the Antwerp Museum of Contemporary Art is located in an old grain silo, and the DIVA Diamond Museum Antwerp tells the story of the diamond trade in Antwerp.
Explore European History in Belgium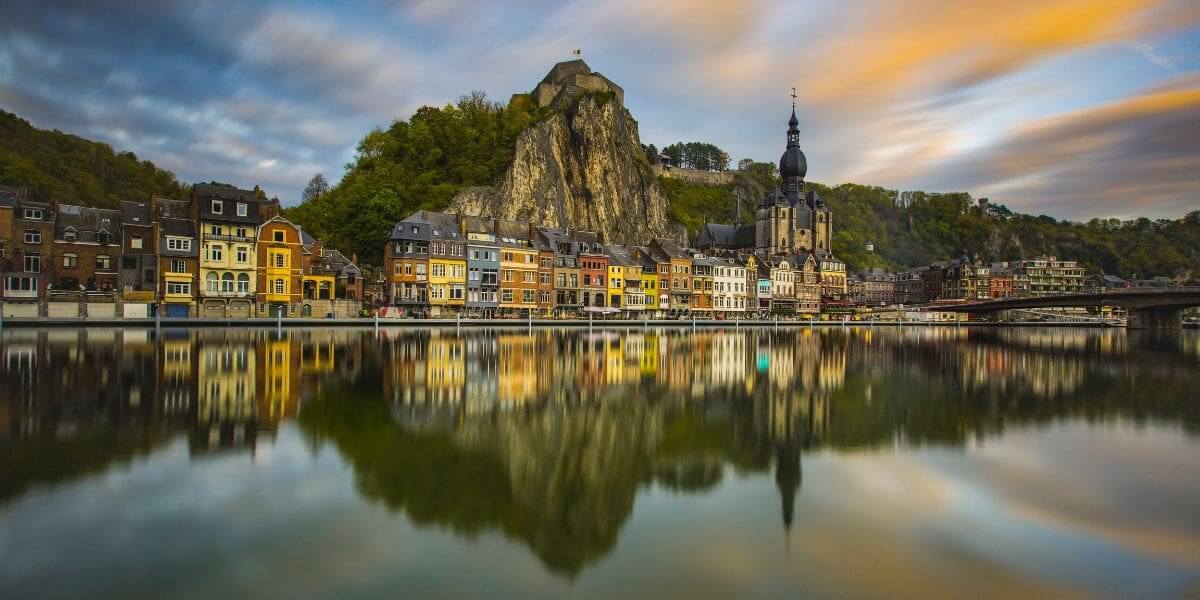 The European Parliament in Brussels
One of the reasons Belgium is such an important country is because it is the headquarters of The European Parliament. There's a free (that's right, free!) tour in Brussels of the museum of the parliament and it's a great way to spend a rainy afternoon in the city. 
Learn about the structure and history of the European Union, as well as the history that led to its foundation, and discover the function of the Parliament.
The museum is very interactive and informative and is one of my top recommendations in Belgium.
The Battlefields of Flanders
If you've come on a Belgium tour to explore the history, this is one of the best places to start.
Start in Ypres, where most of the WWI brutal trench warfare took place. There's a Flanders Fields Museum, where you can get more information and see artifacts from the conflicts.
Visit Rijselpoort, a fortified gate, then head to the battlefield tour from Menin Gate, where troops marched into battle.
There are several war cemeteries in the area, as well as memorials dedicated to English and Canadian soldiers.
Waterloo
Another great place to go on a Belgium tour about history, Waterloo is famous for the Battle of Waterloo and the Abba song, but it's a great travel destination for so many more reasons.
Of course, you can visit the Waterloo battlefield and the Memorial 1915, an exhibit that is completely underground beneath the battlefield. It shows the dioramas of the events that led to the battle. Afterward, you can take a military jeep across the battlefield with audio commentary.
When you finish at the battlefield, you can visit the Church of Saint Joseph of Waterloo. There are memorial plaques dedicated to officers who fell at the Battle of Waterloo.
Visit a small farmhouse just outside of Waterloo to see the Last Headquarters of Napoleon. The farm was converted into a museum and includes paintings, engravings, and weapons. You can also see a lock of Napoleon's hair, his bed, his death mask, and the skeleton of a French soldier.
While you're in the area, you can also visit the Castle of Argenteuil, a former royal domain. Prince Charles, Count of Flanders and his older brother King Leopold III once lived there.
Visit Spectacular Old Towns And Medieval Cities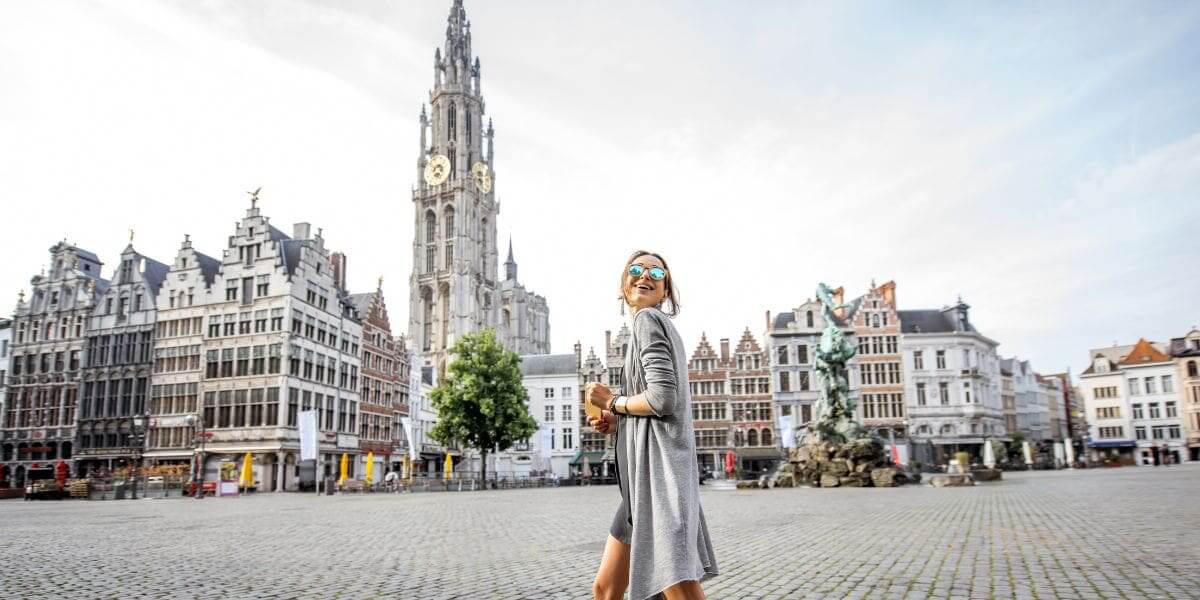 Antwerp Walking Tour
Antwerp is a center of creativity. Known for fashion, artists, and craftsmen, this city is also an active trade port. A walking tour is one of the best ways to get to know the city, and you'll likely stop at places like the Grange Place to view historic guild houses, the Old Town Hall, and Ruben's House.
After a walking tour, visit some of the museums in Antwerp, like the Royal Museum of Fine Arts, then shop in this fashion capital.
You can also take a Jewish Belgium tour in Antwerp. You'd likely explore the Diamond district the Belgium Jewish community was famous for, the Jewish neighborhood, shops, bakeries, and other Jewish locations.
Ghent
Ghent is a great and romantic spot to visit a medieval town. Walk and see the historic guild houses along the Graseli Canal and the Korenlei Canal, or take a canal boat cruise in the evening.
Visit the 12th-century medieval fortress of Gravensteen in the heart of the Old Town. It truly looks like a fairy-tale castle. Inside, there is a museum with artifacts from the history of the building, when it was a royal residence and a textile factory.
There's another castle, Laarne Castle, 11 kilometers from Ghent, that is also worth a visit for its historic exhibits.
Bruges 
The medieval old town of Bruges is a quick train ride away from the capital of Brussels and one of the best places to go on a Belgium tour.
It's easy to get pleasantly lost among the cobblestoned streets and canals as you explore the main squares of the Market and Burg Square.
You can visit the Belfry, a medieval bell tower, or the Basilica of the Holy Blood, which houses a vial of what is said to be Jesus' blood.
Bruge's oldest building is a 12th-century hospital where you can see exhibits of centuries-old medical instruments.
Leuven
Leuven is home to the oldest Catholic University in the world, as well as great shops and galleries.
See an example of Brabant Gothic Architecture at St. Peter's Church and visit the Museum of Religious art within, or visit the old city hall. There are interesting historic homes at the Groot Begijnhof, a community founded in the 1200s.
For lovers of art, the Museum Leuven houses art from around the world. For lovers of the natural, the Leuven Botanical Garden Kruidtuin is a medicinal plant garden.
Enjoy Belgium's Outdoors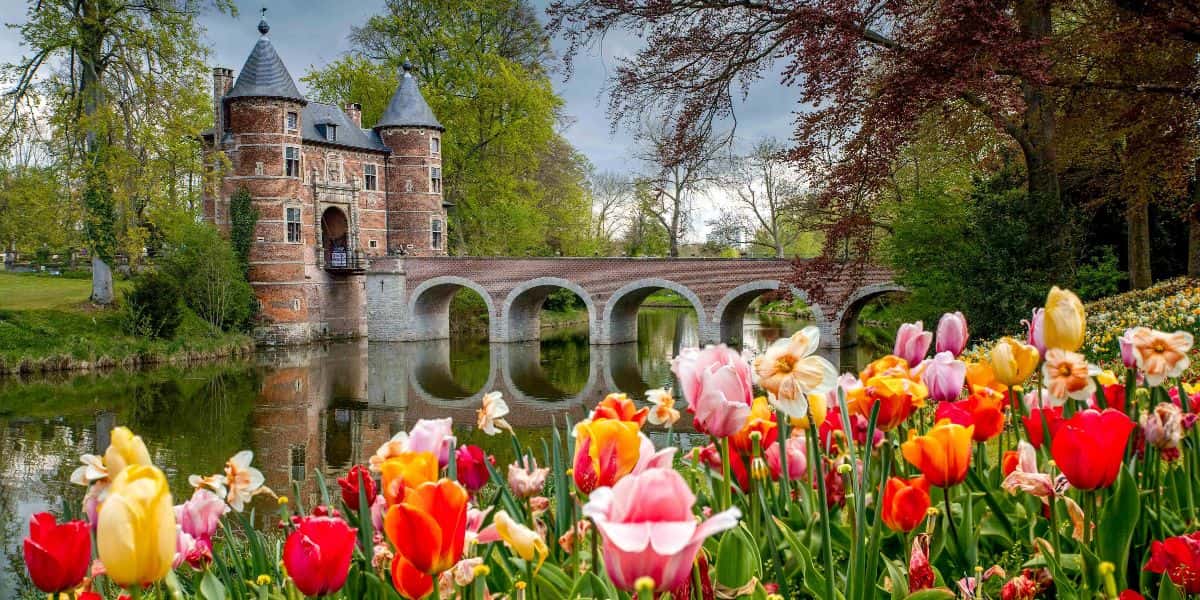 Dinant

 
Dinant is one of the most strikingly beautiful places in Belgium.
It lies along the Meuse River in the Namur province and Europe's largest restored citadel overlooks the city, but it's really the natural wonders that make Dinant worth the visit.
Some of the most common activities are visiting the caves of Han and the Grotto of Dinant, or to try some of the regional foods such as the Flamiche Dinant raise–a version of cheese made with a cheese called "Boulette de Romedenne", couque de Dinant, which is Europe's hardest biscuit, or to try the beer Leffe.
Ardennes
Ardennes is a great place if you like mountain biking, hiking, or camping.
Some cool things you can do:
Ostend Beaches
The Ostend Beaches are only a day trip from Bruges, and are some of the most popular in Europe. They're famous for luxury accommodations and great Spas.
One of the most exciting things to do at Ostend's beaches is to visit the annual events, like the Sculpture Festival and the Theater Aan Zee (TAZ) festival. If you go on a private guided tour of Belgium, your tour guide will likely know when festivals come up and plan it into your itinerary.
Hautes Fagnes Wetland Nature Reserve
This reserve is the highest point in Belgium, 700 meters above sea level. The area is boggy, but you can explore it by following boardwalks. The area is a bit eerie and it's possible to explore a whole day without seeing any human–but you're likely to see roe deer, wild boar, black grouse, and hen harriers.
Belgium is a fascinating country to visit–full of history, but also a central location for what modern Europe looks like. This is a destination you will want to come back to for another Belgium tour and to explore more of the Jewish heritage in Belgium and all the diverse activities and locations available.
The Belgium Jewish community and its history are waiting to be explored. If you're looking to visit, check out our Belgium Jewish tours here.