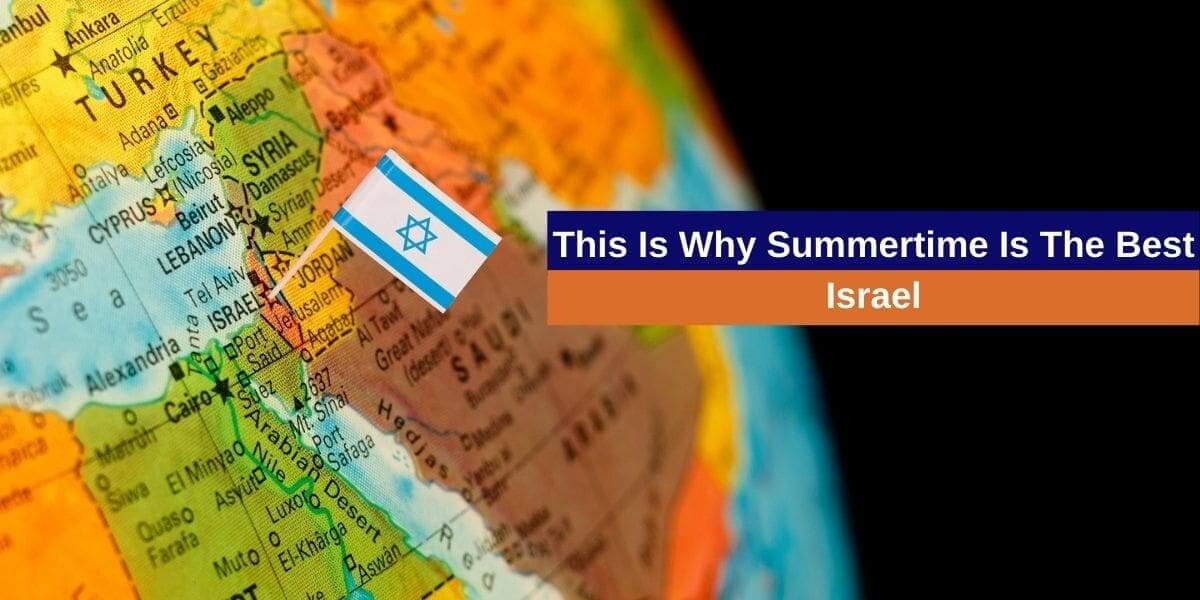 There's nothing like vacations to Israel in Summer. Spend the days at the beach playing matkot with locals, or sit outside at a cafe as you drink an espresso and eat shakshuka. Walk around the old city during the summer in Jerusalem, or take a sunny self-drive tour of Israel. 
Vacations to Israel in the summer are relaxing, and the great weather opens up many possibilities. There are so many things to do in Israel in the Summer and planning a family trip to Israel is easy in the warmer months. 
Every season in the holy land has its benefits, but there is something different about family tours to Israel in the summer. It's a land of sunshine, family, and outdoor activities. 
Should I go to Israel in the summer?
Summer is a great time to visit Israel. The weather is great, the streets are alive, and there are plenty of summer activities to enjoy on a trip to Israel. Not only that, Summer is the time when many of Israel's best festivals and events are hosted.
Is Israel a good place to visit with kids?
Israel is a great travel destination for kids. Overall, for Israel trips for families, the culture is very child-centered, and there are many activities to take your family to all over the country. Museums and outdoor spaces usually have activities to accommodate children of all ages. 
How's the weather in the summer?
If you're planning a family trip to Israel, make sure to keep in mind that summer in Israel is warm and gets hot in the middle of the day, from 27 to 32 degrees Celsius. Jerusalem is a bit colder than Tel Aviv and Tiberias. Rain is minimal and there's plenty of humidity. 
So what can you do while on vacation in Israel with your family during summertime? Well, there are many things and we are going to explore them here.
Catch a movie outside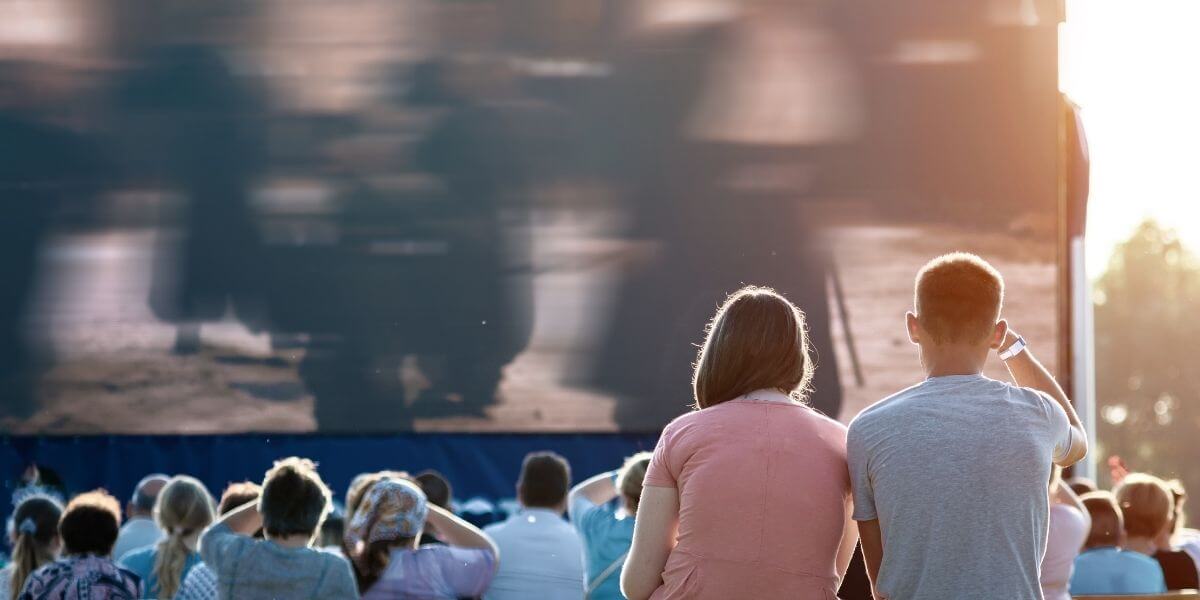 One of the most classic things to do in Israel in the summer is watching an outdoor film. In Jaffa, Gan Hapisga has weekly movie screenings. Sit back and relax at the beachside park. Every week is different, but they sometimes have events such as the Tel Aviv Surf Film Festival. 
At Azrieli Mall in Tel Aviv, Globus Max Movie pop-up amphitheater allows you to watch movies on a rooftop in the summer. Films start at 6:30 PM and there are snacks, drinks, a buffet, and live music before the screening. 
If you want to do something extra special, Tel Aviv has a sail-in theatre on the boating lake in Park HaYarkon. You can watch films from the comfort of a boat on a theatre-sized screen. Moored rowboats and paddle boats are available there.
Tickets are NIS 80 per boat for Tel Aviv residents and NIS 200 if you don't live in the city. 
Get a tan at the beach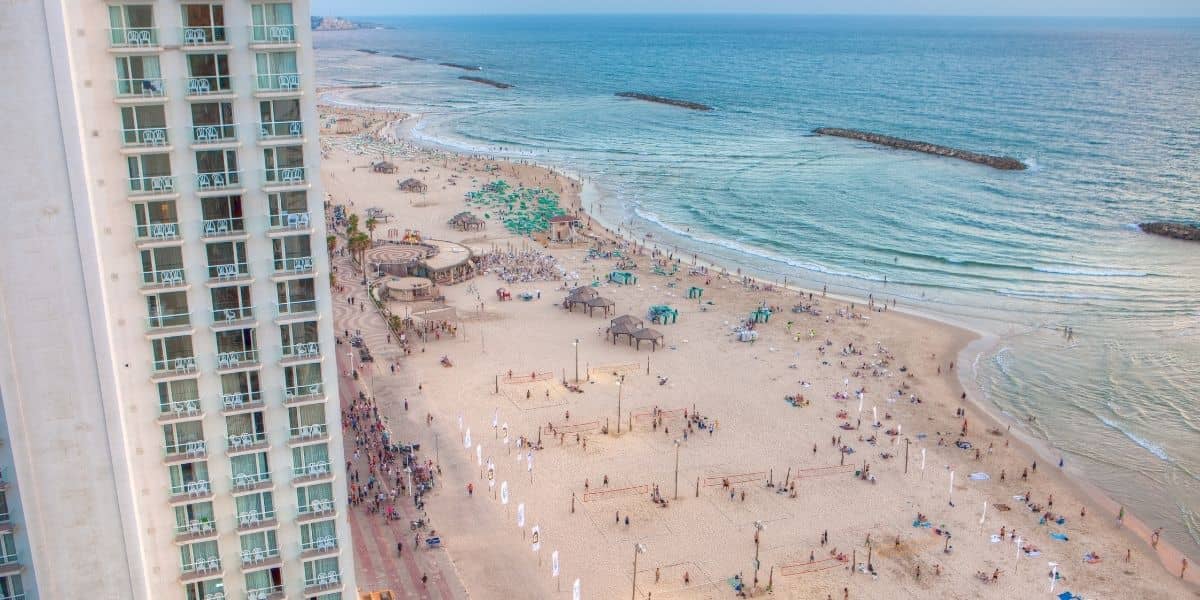 Whether you're in the cosmopolitan city of Tel Aviv or the resort town of Eilat, there are plenty of beaches to choose from if you're on Israel trips for families. Restaurants are often available near the beaches, or you can sign up for a sports class, play matkot, or find a volleyball game along the sand. 
Beaches are especially great midday when the temperature gets hot and the sea breeze provides a perfect reprieve from the heat.
Here are some Israeli beaches you should visit:
Apollonia National Park and Beach in Herzliya –

This magnificent beach is home to ancient ruins and a beautiful view of the Mediterranean. There are upgraded walking paths and coastal cliff views. 

Gordon Beach in Tel Aviv

– If you're into sports, head to Gordon Beach. Join a game at one of the many volleyball courts or go for some laps at the saltwater swimming pool. The boardwalk is covered in restaurants where you can find fish, sandwiches, and more. At night, dance and drink at one of the outdoor beach bars. 

Caesarea Beach in Caesarea –

Caesarea Beach is 50mk north of Tel Aviv. It's lined with the ruins of an ancient Roman aqueduct. Locals love this spot. There are no restaurants but it's a great place to go to see the sunset or have a picnic. 

Jizr a-Zarqa near Caesarea –

Jizr a-Zarqa is an Arab Fisherman village north of Caesarea. It's not very populated, and perfect if you're looking to get away from the crowds. There's a fish restaurant open occasionally and a beautiful spot with a stream estuary. 

Palmachim Beach in Tel Aviv –

Palmachim Beach is absolutely beautiful. There are stunning low cliffs to the south and a great view of Tel Aviv to the north. It feels a bit secluded, and there's room for any beach activity, making it a great place for a family holiday Tel Aviv option. 

Mikhmoret Beach in Netanya –

This beach to the north of Netanya is calm and relaxing. There are restrooms, changing rooms, and a cafe. The best reason to go to this beautiful spot is the sunset.

Dado Beach in Haifa –

Dado Beach is the most popular beach in Haifa. There are restaurants, cafes, an amphitheater, and a promenade. It's accessible for people with disabilities and there are wheelchair-friendly changing rooms and bathrooms. 

Mosh's Beach in Eilat

– Located in Eilat, this beach has great restaurants and beach service. It has a view of the Jordan Mountains, music, and great food. 

Hilton Beach in Tel Aviv –

Another great option for sports, Hilton Beach has the Sea Centre Club, which offers windsurfing and kayaking classes. There are also great restaurants nearby. 
Now once you are done with the beach you will be hungry so make sure to eat the great Israeli cuisine.
Taste Israeli culture at one of the multiple festivals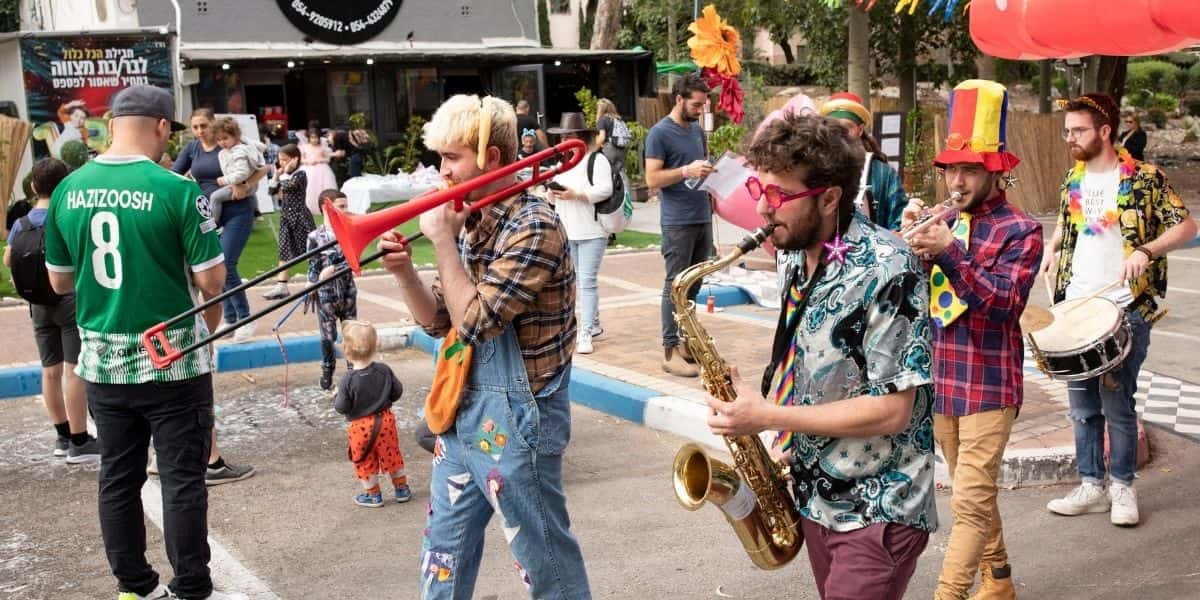 Summer is one of the best times for various festivals in the country. Check out the wine festival in Jerusalem at the end of July. Listen to Jazz around the Israel Museum as you taste all the different wines and pair them with multiple food options from surrounding stalls. 
At the end of June, you can attend the free festival of light in Jerusalem, enjoying the video projections and light projections all over the walls of Jerusalem's Old City. 
In the Galilee, the "Falling in Love with Nature" agricultural tourist farm opens its gates for the Lychee Festival. You can pick lychee, check out a petting zoo, and try Turkish coffee and various teas. You can also pick passion fruit, grapes, and carob on the farm. 
Some more summer festivals in Israel:
White Night Tel Aviv –

White Night Tel Aviv or Laila Lavan, features parties, beach concerts, exhibits, and more. It goes from June 30 to July 1 all over the city, in venues like Jaffa Port, Menachem Begin Park, and Sarona Market. 

Upper Galilee Chamber Music Festival –

July 12-16, the hills are alive with music when some of the best minds in the chamber, orchestral, vocal, and other music artists come together to play.

Tel Aviv Blues Festival –

From July 13-16, there are 40 concerts in Tel Aviv in over 20 different clubs and bars. Many of the live performances are free and past performers have included Full Trunk, David Peretz, Itamar Beck, and Lazer Lloyd. 

Klezmer Music Festival –

What better way to enjoy Safed than with music? The Klezmer festival takes place in Safed August 15-17. Free, open-air performances are set all around the city from 9 pm to midnight at night during the festival. During the day, there are magic shows for children, storytelling, and lessons. 

International Puppet Theater Festival

– Two times in the summer, there's a puppet festival, where 30 performances take place, as well as exhibits, workshops, and more. The first is in Holon July 21-30. The second is in Jerusalem August 15-18.

Jerusalem International Film Festival –

The world of film has expanded in Israel in recent years. On July 7-17, the Cinematheque hosts the annual international film festival in the city. 
Stay cool at a spring
When the heat ramps up in the summer months in Israel, one of the most popular local activities is to head to a spring, or "maayan". In the Valley of Springs area, tiny fish in the water will nibble at your feet. The waters in Ein Hanatziv in the Beit She'an Valley are crystal clear. 
Of course, you can also visit colder springs, like the famous Ein Gedi. Either is a good option. 
Take advantage of the air conditioning when you go shopping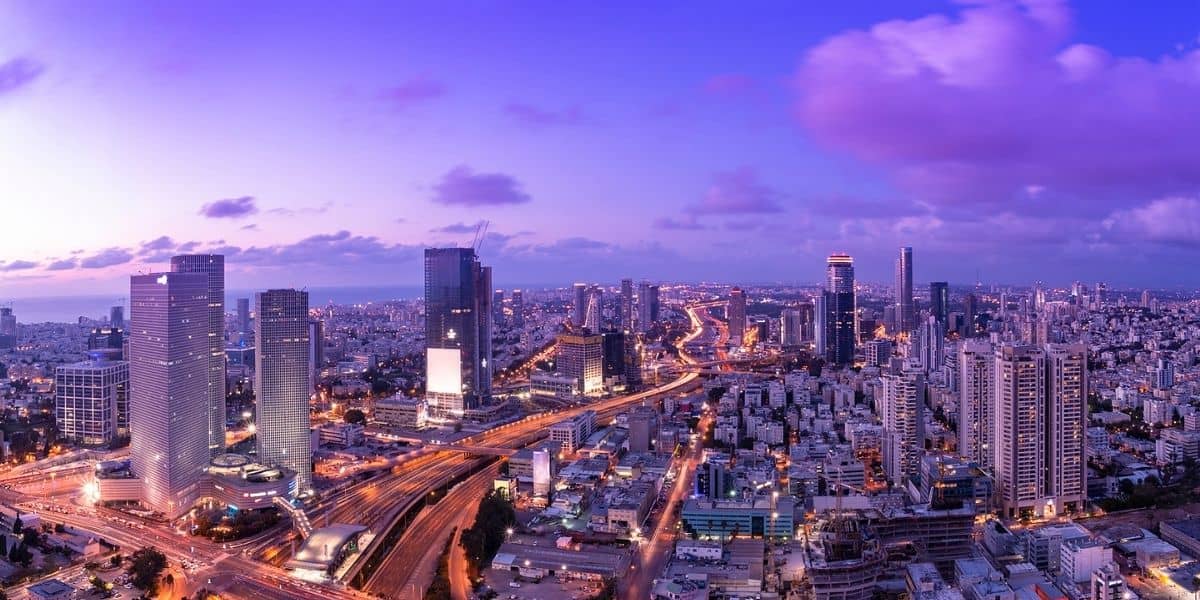 Israel can be a special place for shopping. Some of the best places to go are Tel Aviv for boutique shopping in the districts of Florentin and Fizengoff, or go a bit off the beaten path to the Carmel Market and find treasures at the Jaffa Flea Market. Try delicious food at Sarona Market, or head to Jerusalem to experience the upscale open-air Mamilla Mall. 
Some of our favorite shops and markets:
Nahalat Binyamin Arts and Crafts Fair –

This fair, adjacent to the Carmel Market, brings 220 artists to sell their work every Tuesday and Friday.

Sarona –

This area in Tel Aviv is a lovely village with great shops. Every store and restaurant has its own villa. 

First Station –

This outdoor mall is located in an old train station in Jerusalem. It's always hosting events and festivals and there are plenty of shops, restaurants, and kiosks to peruse as you enjoy the space. 

Machane Yehuda Market –

The well-known Shuk has more than 250 vendors. It's a great place to pick up a piece of specialty halvah, fresh produce, and more. The most exciting time to be there is Friday when Jerusalem locals head to the market to pick up food for Shabbat dinner.

Mamilla Mall –

Mamilla Mall is at the entrance to the Old City in Jerusalem. It's a great open-air mall to head to when you're looking for designer shops. Even if you're not planning on buying anything, it's a great spot for walking and just enjoying the twinkling lights above and the delicious restaurants in the mall.

Neve Tzedek –

This neighborhood in Tel Aviv is a great spot for restaurants, boutiques, and street art. It's perfect if you're looking for home furnishings, clothes, and Jewelry. 

Jaffa Flea Market –

Go to the Jaffa Flea Market in Jaffa to go on a treasure hunt for vintage pieces and antique furniture. Search for great second-hand clothing steals and grab some street food. 

Emek Refaim –

Emek Refaim is a hip area in Jerusalem and also a place to go if you're looking for cute cafes and chic boutiques. 
Visit the parks in the cities
There are so many great parks in Israel. You can go on a day trip for a hike in places like Ein Gedi, or visit somewhere more local like Hayarkon Park in Tel Aviv, where you'll find basketball courts, football fields, gardens, and a lake. Rent a pedal boat for a cruise along the park, or pick up some food and chocolate in a bag for a picnic by the water.
Enjoy the cocktails and wines that are perfect for rooftop summer nights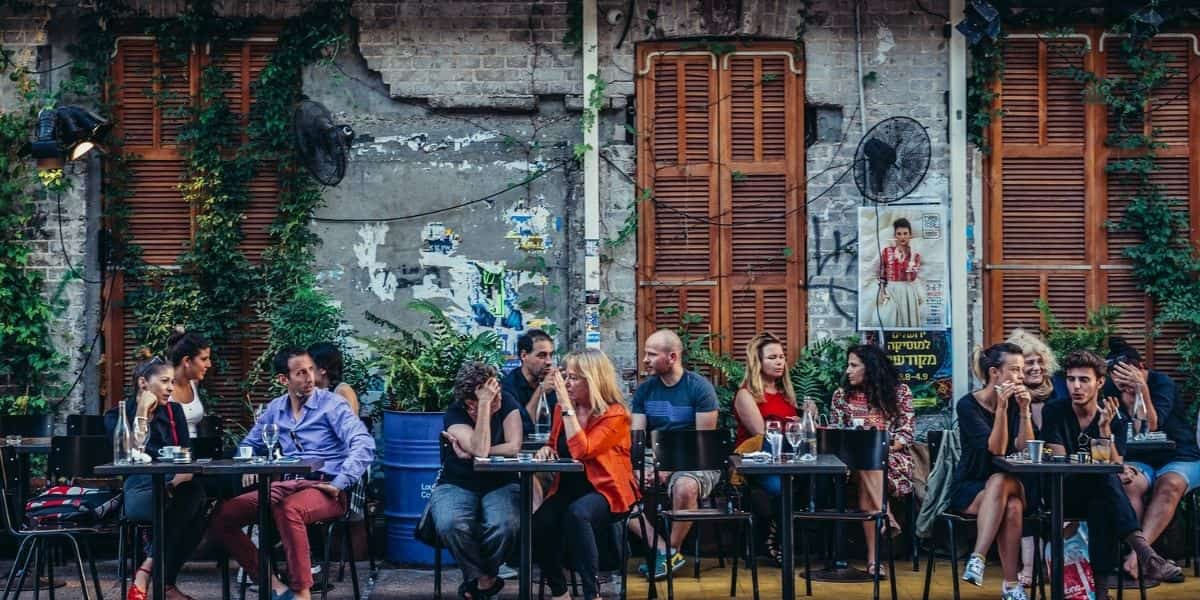 Tel Aviv is known for its party scene, but its cocktail scene is vibrant and unique, from the bar voted the Best Bar in Africa and the Middle East (Craft Cocktail Bar) to other cocktail havens where you'll find delicious and unique drinks. 
If you're more into wine, Conde Nast Traveller voted Israel the third hottest wine destination in 2016. In the summer, Jerusalem hosts a wine festival with a great selection of Israeli wines, live performances, and food options. 
Some of our favorite wineries:
Golan Heights Winery – In 1983, Golan Heights Winery pioneered winemaking techniques in Israel. They offer homegrown table wines that are considered some of the world's finest wines.  If you visit, you can take a wine-tasting tour as well as see the oak barrel cellar. There's also the chance to ride in a jeep to tour the vineyards and learn about all the grape varieties at the winery. 

Somek Winery – This winery is close to Zichron Yaakov. The grapes are handpicked at the winery every morning as early as possible by volunteers. They're processed immediately in an old-fashioned barrel press moved by hand. 

Tishbi Estate Winery – Tishbi Estate Winery is in Zichron Yaakov and is an internationally acclaimed winery. If you do, you'll need to visit the tasting center, where you can try chocolate pairings and guided wine tours. There's also a delicious restaurant where you can taste one of the 1,000,000 bottles the winery produces each year. 

Lotem Winery – If you want to enjoy wine while looking out on the Kineeret and the Lower Galilee, this is the place to be. The wines are made from organic grapes from the vineyard in Kibbutz Zivon on Mount Meiron. They pay close attention to detail and even have a particular music they like to play for the grapes during the process of winemaking. 

Pelter Winery – The founder of this winery, Tal Pelter, studied enology in Western Australia. The winery reflects Australian wine culture and is located in the Golan Heights. 
Summer is a great time to visit museums
On especially hot days, why not take advantage and head to one of Israel's many museums? See the Dead Sea Scrolls in Jerusalem or visit the Tel Aviv Museum of Art for a taste of contemporary art. Learn the story of the Jewish people at the ANU museum and other great museums in Tel Aviv.
Some of our favorite museums:
Eretz Israel Museum
The grounds of this unique museum are on the archaeological site of Tel Qasile, which dates back to the 12th century BCE. 
Inside the museum, you'll find Jewish folkloric objects, coins, mosaics, and more from all different times and regions of Israel. 
Tel Aviv Museum of Art
 This is the perfect place to get an education in new and old Israeli art. There are also always interesting temporary exhibitions, as well as a calming sculpture garden where you can relax. 
Haifa Museum of Art
 This museum inside a 1930s building has work from artists from all over the world, including Marc Chagall and Andre Masson. There are also temporary exhibits. 
Madatech, Israel's National Museum of Science, Technology, and Space
Especially if you're on a family trip to Israel, this is a great museum for adults and children. Hands-on exhibits show history's greatest inventors and scientists.
The Tower of David
 This museum is inside the Citadel of Jerusalem. It demonstrates the city of Jerusalem's story and its importance to Judaism, Christianity and Islam. The exhibitions are constantly changing.
ANU: Museum of the Jewish People
This museum in Tel Aviv tells the story of the Jewish people, all the way from ancient times to today. It's filled with interactive displays and there's even a replica of Jerry's living room from the comedy series Seinfeld. 
The rooftop of the museum has a great view of the ocean. 
Yad Vashem
This museum is technically a memorial. The 45-acre campus dedicated to the memory of the Holocaust has both indoor memorials and outdoor memorials, exhibits, gardens, and education and research centers. 
The Israel Museum
One of the world's leading art and archaeology museums. Come here for collections from prehistoric to the present day, Jewish art, and fine art. The most famous part of the museum is the Shrine of The Book, home to the Dead Sea Scrolls. 
Interested in art? Why not visit Israeli art colonies on your family trip to Israel?
Take a boat ride
There are plenty of places to take boats out in Israel. You can even go on the Dead Sea and the Red Sea, or take a boat through underground caves. 
If you're near the Kinneret, take a boat ride out on the Sea of Galilee, one of the largest freshwater lakes in Israel and the lowest lake in the world.  
Explore the outdoors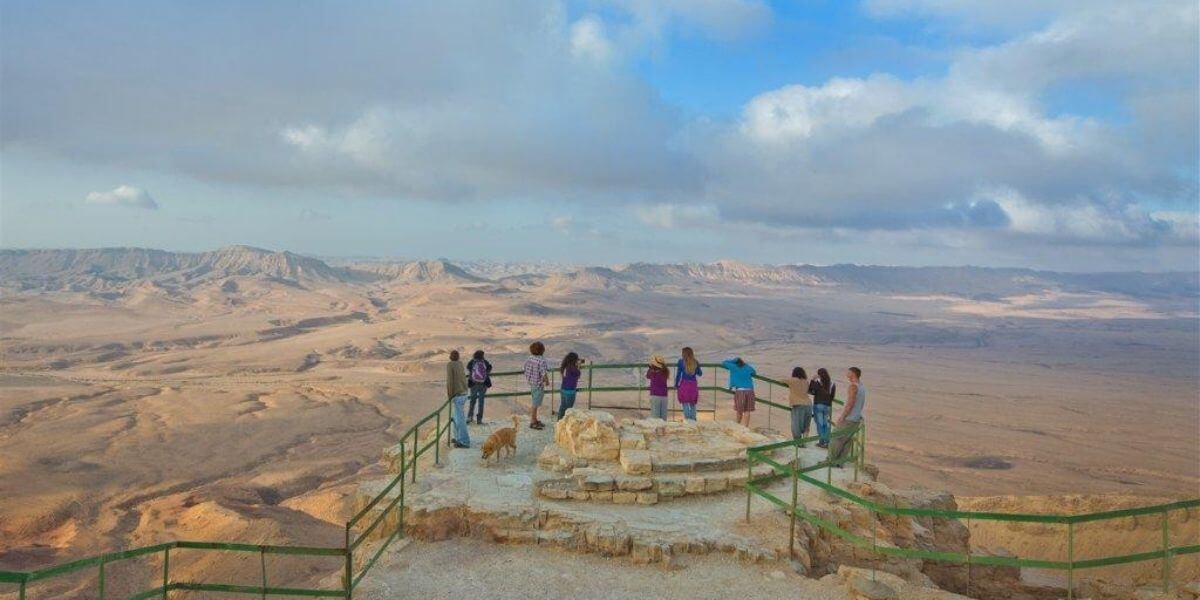 The best way to travel around Israel is by experiencing the outdoors. If you're in the city, try out yoga or paddleboarding, or yoga on a paddleboard if you're extra adventurous. Go surfing on the beach or explore the many walks around Israel. Take a bike ride around the city and discover Israel from a new perspective. 
Leave the cities for hikes in some of the most beautiful places in Israel, like Mitzpe Ramon or the Golan Heights. 
Dive deep into the water for an unforgettable experience
Israel is an excellent scuba diving location. You can head to Coral Beach Nature Reserve, the Red Sea, or the Dolphin Reef. There are plenty of beautiful coral reefs and a variety of fish. In Dolphin Reef, you can watch dolphins and swim with them up close. 
Our favorite diving locations:
North Coral Beach
In Eilat, you can dive down to see the Yatush wreck. There are plenty of corals growing in the area, and there's another Israeli Navy ship located 30m below the surface. Divers can make their way through the ship, viewing parrot fish, garden eels, lionfish, moray eels, and more. 
Gordon Caves
The Gordon Caves are near Gordon Beach in Tel Aviv. There are a variety of caves of all sizes to swim through. There are axe fish, octopus, and thornfish. 
The Nature Reserve
The Nature Reserve in Eilat is beautiful in general. The Moses Rock has a beautiful reef with all sorts of marine life. The Japanese Gardens can be visited by boat. You might see sting rays, turtles, eagle rays, octopuses, and more. This spot is for advanced divers. 
Village Beach
If you like diving in shipwrecks, this is the location of the Satil wreck, a missile boat that was used in 1969 against French authorities. Among the shipwreck, you'll find lionfish, emperor angelfish, New Guinean frogfish, and more. The Village Beach is also located in Eilat. 
Rosh Hanikra
The Rosh Hanikra underwater caves go about 7 meters in depth. Before going in, you need clearance from the Israeli Navy. A guide is a must on this particular dive. The grotto is in the Red Sea. 
Whether you're taking a self-drive tour in Israel, a guided tour, or a few days in one of the many amazing cities, Israel in the summer is like nowhere else. Spend summer in Jerusalem or Tel Aviv, Haifa or Holon. Everywhere in the holy land is spectacular in the warmer months. Book your Israel tours with our Israel Jewish travel agency today.